Pendapatan sampingan Nini menggunakan Mesin Jahit Brother
Pada tahun 2008, suami saya membelikan mesin jahit pertama saya iaitu Brother LS2140. Masa tu baru je pindah rumah baru. Konon2 nak jimat, so jahit la langsir sendiri. Mula2 mmg zero knowledge pasal menjahit ni. Jahit tgn pun sgt2 buruk. Tapi nasib baik suami mmg terrer, kakak ipar sy mmg tkg jahit, dia ajar saya basics gunakn mesin. Akhirnya berjaya jugak jahit langsir sendiri dgn kos rm600 utk rumah double storey termasuk rod. Murahkan? Byk betul dpt jimat. Walaupun sebenarnya langsir tu senget benget
Lepas tu, mesin tu terperam for few years. Masa tu saya kerja engineer di multi-national company, flextronics. Sampai la saya berhenti dan masuk Dyson (uk based company yg jual vacuum). Masa tu jd test engineer. Kebetulan saya berkawan dgn gegirls yg suka menjahit. Jd sy keluarkn semula mesin. First2 buat baju ngn seluar yg simple2 utk ank. Lepas tu mula buat skirt, blaus ngn jubah utk sendiri. Belajar jahit dr kawan2 kt dyson tu dgn tutorial kt fb.
Bila hjg tahun 2014, dpt bonus, sy beli mesin jahit tepi brother 3034d. Mmg makin seronok la menjahit. Lepas bertahun2 akhirnya kami sekeluarga dpt beraya sedondon
2015, saya mengandung ank ke3. Masa nak bersalin byk complications. Baby lahir tak cukup bulan pastu ada jangkitan paru2. Suami mintak sy berhenti kerja supaya dapat jaga bby fulltime. Utk elakkn saya bosan dirumah, dia belikan sy mesin jahit industri utk jahit lurus, jahit tepi & tepi halus jenama typikal.
Seronok betul saya. Masa tu tak pandai lg pun. Tp dpt tempahan utk cadar, bantal+sarung utk chalet from a friend. Then, order dari kwn2 mula masuk. Mula2 tak berani. Amik tempahan utk baju budak je. Pastu mula amik tempahan baju kurung & kurung moden. Sekarang, saya dah boleh ambil mcm2 tempahan termasukla kemeja, baju melayu & seluar berzip.
Ok, now the rest is history. I'm very content that i can stay at home raising my 3 children, while enjoying & making profit in sewing.
Artikel hasil penulisan,
Nini Zuraini Zainal Abidin
Kulai, Johor
-----------------------------------------------
Anda mempunyai sebarang cerita, pengalaman menjahit, pengalaman membeli mesin, cara gunakan mesin, skill menjahit, DIY sewing project atau apa2 shj berkenaan industri jahitan untuk berkongsi? Sila email ke admin@lsn.com.my. Artikel yg terpilih & dimuatnaik ke Web atau FB LSN akan diberi reward.
Di bawah adalah beberapa pakej cadangan LSN utk menjana pendapatan sampingan.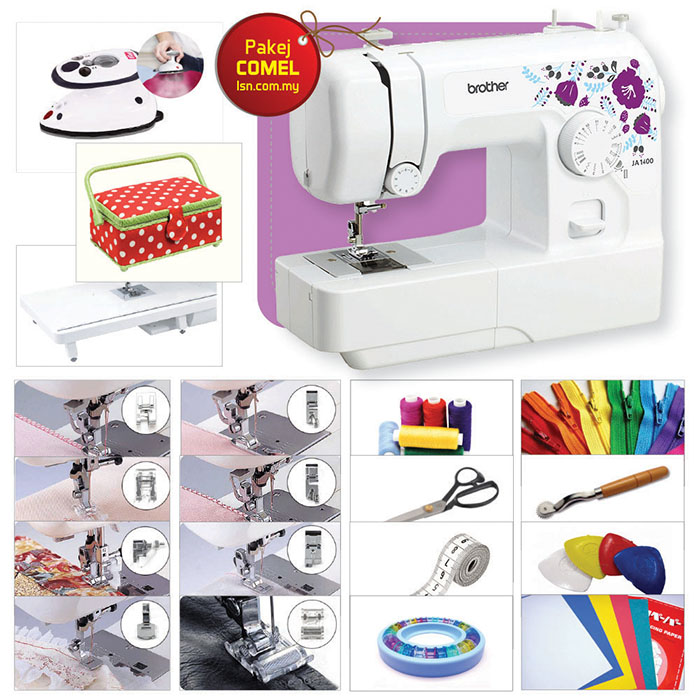 Pakej COMEL dilengkapi dgn
1. Mesin Jahit Brother JA1400
2. Prym Steam Iron Mini
3. Sewing Basket (random design)
4. Extension Wide Table
5. Multi Footers Set
6. Basic Sewing Accessories
Beli Online: https://goo.gl/4Xno0C
-----------------------------------------------
Pakej MURNI dilengkapi dgn
1. Mesin Jahit Brother GS2700
2. Prym Steam Iron Mini
3. Sewing Basket (random design)
4. Extension Wide Table
5. Multi Footers Set
6. Basic Sewing Accessories
Beli Online: https://goo.gl/S3qkox
-----------------------------------------------
Pakej MANIS dilengkapi dgn
1. Mesin Jahit Brother NV55P
2. Prym Steam Iron Mini
3. Sewing Basket (random design)
4. Extension Wide Table
5. Multi Footers Set
6. Basic Sewing Accessories
Beli Online: https://goo.gl/6jWG7H
---------------------------------------------------
Pakej PRESTIJ dilengkapi dgn
1. Mesin Jahit & Sulam Brother NV955
2. Basic Embroidery Software
3. 10,000 Design Sulaman
4. Prym Steam Iron Mini
5. Sewing Basket (random design)
6. Multi Footers Set
7. Basic Sewing Accessories
Beli Online: https://goo.gl/5eQ1f0
------------------------------------------------
Pakej MESRA dilengkapi dgn
1. Mesin Jahit Tepi Brother 2104D
2. Prym Steam Iron Mini
3. Sewing Basket (random design)
4. Extension Wide Table
5. Basic Sewing Accessories
Beli Online: https://goo.gl/8TyI3W
-------------------------------------------------